Details

Created on

28 August 2012
reat news from the testing area! Our software that protects you against malware of any kind is regularly tested and awarded by magazines, independent organizations as well as private security freaks. Reason enough for us to inform you about the most important results of the last months - you can always trust our security software as the following results clearly prove.
VB100 Award for Emsisoft Anti-Malware 6.5

Every second month, the organization Virus Bulletin awards one of the most renowned prizes of the security sector, the VB100. This is quite a hard goal to achieve due to the strict testing conditions and equals an accolade for first-class security software.

Emsisoft Anti-Malware 6.5 achieved a detection rate of 100% while scanning about 100,000 malware samples and no false alerts, which is a perfect result and gained the program the VB100 Award June 2012.
Emsisoft Internet Security Pack is awarded VIRUSOVNET high+
Emsisoft Internet Security Pack is another reason to celebrate: in a comparative test run by the biggest Russian magazine comss.ru, our security suite scored first rank among 21 test candidates. Reason for this victory: first-class and unbeaten detection rates of 99.4% when faced with a big collection of current malware. This resulted in the highest award for our software, the VIRUSOVNET high+ Award.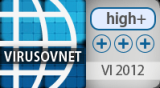 There are more test reports waiting for you
We could very easily continue to give you more great examples, among which there are also YouTube videos that show our software in real life. But this would probably be too much for now and would take you too long to read. For more interesting test reports, please see our blog dedicated to this purpose.
Read all test reports at:
www.Anti-Malware-Reviews.com