Details

Created on

09 November 2012
With new second scan engine and enhanced surf protection
We never stop working to ensure the most efficient protection possible for your PC and valuable data. Important improvements in the last few months have enabled us to proudly present version 7.0 today, another major milestone.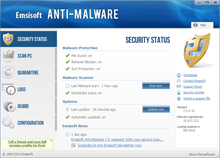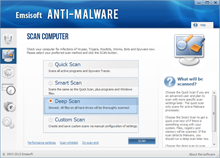 What is the difference between Emsisoft Anti-Malware 7.0 and previous versions?
| | |
| --- | --- |
| | Considerably enhanced scan engine: The second scan engine (B) has been replaced by a sophisticated variant. Moreover, scan performance can be personalized even further through new options. |
| | Enhanced cleaning and surf protection: Registry entries that have been manipulated by malware and are required in order to start Windows are restored during cleaning. Surf protection relies on a brand new database that detects malware and phishing sites even earlier and causes fewer false alerts. |
| | Faster online updates: Smaller incremental downloads arrive at least once per hour and can be used immediately. |
What does this mean in practice?
Emsisoft Anti-Malware 7.0...
... finds even more malware and remains No. 1 in detection.
... causes almost no false alerts thanks to the new scan engine.
... runs noticeably faster and does not slow down even older PCs.
... closes the gap on zero day malware through the use of behavior analysis.
... can remove even more malware infections.
... keeps you from visiting dangerous websites.
How to obtain Emsisoft Anti-Malware 7.0
All customers who own a valid Emsisoft Anti-Malware licence will receive the new version at no cost through online updates as usual. You can also download the installation file from our product page and test it for 30 days at no cost and without any obligations.