With new second scan engine and enhanced surf protection
We never stop working to ensure the most efficient protection possible for your PC and valuable data. Important improvements in the last few months have enabled us to proudly present version 7.0 today, another major milestone.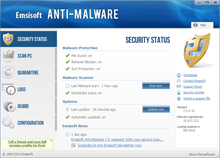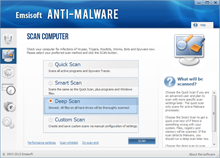 What is the difference between Emsisoft Anti-Malware 7.0 and previous versions?
| | |
| --- | --- |
| | Considerably enhanced scan engine: The second scan engine (B) has been replaced by a sophisticated variant. Moreover, scan performance can be personalized even further through new options. |
| | Enhanced cleaning and surf protection: Registry entries that have been manipulated by malware and are required in order to start Windows are restored during cleaning. Surf protection relies on a brand new database that detects malware and phishing sites even earlier and causes fewer false alerts. |
| | Faster online updates: Smaller incremental downloads arrive at least once per hour and can be used immediately. |
What does this mean in practice?
Emsisoft Anti-Malware 7.0...
... finds even more malware and remains No. 1 in detection.
... causes almost no false alerts thanks to the new scan engine.
... runs noticeably faster and does not slow down even older PCs.
... closes the gap on zero day malware through the use of behavior analysis.
... can remove even more malware infections.
... keeps you from visiting dangerous websites.
How to obtain Emsisoft Anti-Malware 7.0
All customers who own a valid Emsisoft Anti-Malware licence will receive the new version at no cost through online updates as usual. You can also download the installation file from our product page and test it for 30 days at no cost and without any obligations.
BullGuard, a leader in user-friendly internet and mobile security solutions for consumers, has today announced the arrival of Internet Security 2013, a new and improved version of its award-winning internet security software. With a focus on simplicity, increasing efficiency and building on its renowned levels of protection against the latest threats, Internet Security 2013 delivers class-leading performance and usability to help users stay safe online.
Highlights:
Clean, intuitive interface makes it even easier to find key tools and make fine adjustments

Multi-layered defence system combines Behavioural Detection and Signature-based Detection for superior virus catch rates

Parental Controls to protect your kids

FREE PC Tune Up to keep your PC running at top speed

FREE 5GB of Online Backup to keep your most important data, photos, music and more safe

World-class, 24/7 customer support

Free upgrade for existing users
The software offers a range of improvements, including powerful parental controls that allow parents to monitor and block access to certain types of websites or IM chat applications, and now also offers better interception and block features to boost efficiency. Parents can even set how much time a child can spend on a computer or online per day in hourly increments. PC Tune Up allows users to effectively free up space and includes registry backup/restore and cleanup to remove unused registry entries, startup application management and service management, all of which help to improve the performance of a PC. 5GB of online backup can now be controlled directly through program folders without having to open the BullGuard software interface, with easy access to online backups from the PC and mobile devices, alongside improved continuous backup functionality.
"At BullGuard we are all too aware of the changing face of threats and our priority is always to ensure that our software is well prepared to deal with both current and future attempts to invade our privacy," says BullGuard COO, Mike Hodges.
"The improvements and additions to BullGuard Internet Security reflect consumer demand to feel well protected when using their computer for any number of tasks. We always focus on ensuring that our software offers fast, unobtrusive performance while remaining easy to use and offering more subtle control if required. Internet Security 2013 builds on all of these areas, as well as providing a range of associated tools, functionality and customer service that makes it one of the most comprehensive and user friendly internet security suites on the market."
Additions to core-security mean that BullGuard Internet Security 2013 can handle far more than just the bare essentials. Boasting a range of unique features that are rarely found elsewhere, it offers a vulnerability scanner for scheduled or on-demand checks of installed software to report possible security holes and vulnerabilities, as well as providing links to updates for outdated programs. It also has local backup and 5GB of online backup as standard - the largest on the market, and comes with PC Tune Up tools and a game mode to further streamline operation. BullGuard also offers world-class, speedy customer support 24/7.
All current customers running BullGuard Internet Security will be offered a FREE automatic upgrade to the new version; the only security vendor to provide this extra value. New users can purchase the software for £44.95 (3 PCs, 1 year).
BullGuard Internet Security is available to download today from www.bullguard.com and existing users will receive an automatic notification of a free upgrade.
Full features in BullGuard Internet Security 2013 include - Antivirus, Antispyware, Behavioural Detection, Firewall, Spamfilter, Game Mode, Safe Browsing (Antiphishing and Link Scanner), Vulnerability Scanner, Parental Control, PC Tune Up, 5GB Backup, Support.
See more at: www.bullguard.com
Synology® Inc. today announced the release of a new 5-bay expansion unit, the DX513, a quick and effortless storage expansion solution for selected DiskStations with hot-swappable drive design aimed at businesses and power users.
As storage drives on Synology DiskStations reach their capacity limits, the DX513 provides an immediate solution to remedy this by scaling up DiskStation storage allowance through an additional five bays. RAID volume expansion can be directly performed by the paired DiskStation without reformatting existing hard drives; this allows continuous service uptime for the paired DiskStation throughout the storage expansion process. Furthermore, DX513 can function as a great alternative local backup solution if created as an independent volume for the paired DiskStation.
DX513 pairs to DiskStations via an eSATA cable with unique connector design on both ends to ensure reliability. Maximum throughput at 3.0 Gb/sec allows DX513 to operate coherently with DiskStation as one single unit.
DX513 is designed with the same energy efficiency concepts as Synology's DiskStations, with hard drive and system hibernation modes that can be configured to operate automatically when the system has been inactive for a period of time. DX513 can also automatically power on/off with paired DiskStation, so no user intervention is required to keep the system running intelligently and efficiently.
Visit http://www.synology.com/products/dx513.php?lang=enu for more product information and http://www.synology.com/support/faq_show.php?lang=enu&;q_id=408 for supported DiskStation models.
Availability
Synology DX513 is now shipping globally.
Synology at a Glance
Synology is dedicated to taking full advantage of the latest technologies to bring businesses and home users reliable and affordable ways to centralise data storage, simplify data backup, share and sync files across different platforms, and access data on-the-go. Synology aims to deliver products with forward-thinking features and the best in class customer services.